June 29, 2022
Posted by:

Ali Whittlesey

Categories:

Industry News, Intellekt News, Markets, Military, Solutions, Technology, Training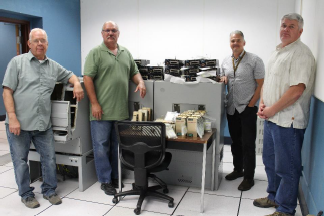 Saying Farewell to an Old Friend
By Meagan Hannon
552nd Air Control Wing Strategic Communications
TINKER AIR FORCE BASE, Okla. — There are changes on the horizon for the 552nd Air Control Wing, and there is a hidden gem in the Wing, who knows change all too well. He currently works as a Senior Technician in Mission Simulators, in the 552nd Operations Support Squadron, maintaining the simulator hardware, computers and communication equipment that so many of our 552nd aviators have trained on over the course of over 40 years. He goes by the name of Mr. Edward "Ed" Kramp, and I was privileged to interview him recently. Not a moment too soon as it turns out, as he will soon say farewell to the old friend he calls the 552 ACW, and take a piece of our history with him.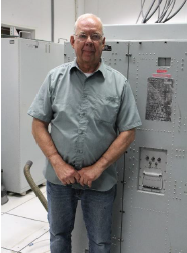 Ed began his Air Force career in 1971, when he enlisted at the age of 18. He trained, and soon became a B-52 gunner. He accomplished a number of missions in this role, until the Air Force did away with the position. Ed retrained into computer maintenance, and in 1979 found himself stationed at Tinker AFB, performing duties in the computer shop at Hangar 230.
He worked with the first generation Airborne Warning and Control System (AWACS), known as the CC1, or what some called "4-Pi", as it had two IBM 360s. At that time Hazeltine, IBM, and other prominent computer and aircraft manufacturers who configured the E-3, had representatives at Tinker because the program was so new. Ed was able to learn from these experts, and credits that time for providing the foundation of what he knows today.
After working in the computer shop for several years, Kramp was asked to develop a course to teach technicians how to perform repairs on the computers. Soon after he transferred to Field Training Detachment 413, now known as Detachment 9, and led a 6 year stint as an instructor writing various courses.
Ed developed one particular hands-on course for maintainers and Computer Display Maintenance Technicians to train together. He explained, "This served two purposes. There was always a maintenance side and a flyer side, and one always thought they were better than the other. See, I flew before too, and I understood it. I wanted to fix it." It was not long before Ed saw flyers coming over to work in the maintenance shop with maintainers. He went on to explain, "It developed a camaraderie between the two, and they communicated better. That was my objective."
At one point in his Air Force career Kramp wanted to be a Chief Master Sergeant. He later decided to remain technical, however. "I would have just been miserable if I had become a manager stuck behind a desk, so I stayed technical. This was where I could do my best work, and I retired as a Master Sergeant," he said. Ed retired from active duty in 1991, and proceeded to go to college.
Mr. Kramp stands in front of the E-23 Cabinet in the old mission simulator located in the 552nd Air Control Wing campus.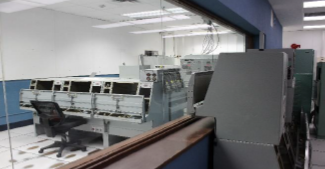 He was rehired as a DoD Civilian working out of the familiar Hangar 230, in the Air Force Engineering and Technical Service office. "As a civil servant, we were kind of a continuity for the military who were coming in and transferring all the time, and served as the experts on the different operating systems," he said of the role that he performed for 5 years.
Ed went on to become a software writer, and wrote the computer diagnostics for the AWACS.
After leaving Building 230, Kramp was transferred to the 558th Software Maintenance Squadron. It was there that he asked the other engineers and computer scientists why changes were not being made to the Nutcracker software system. They replied, "Because it's Spaghetti Code". It was complex, and they did not want to touch it.
The Nutcracker software was written by the engineers who developed the subsystems that interfaced with the computer. Some examples would be the Radar and Identify Friend or Foe (IFF) subsystems.
With the help of another computer scientist who taught Ed to write in IBM Assembly language, the "Spaghetti Code" was broken.
"I took all the crazy numbers out and made it presentable to the technicians who were using it. In addition, I added new routines to help technicians diagnose wiring problems in the display system," he said.
While working in the 558th, Kramp also assisted in the development of a solid-state hard drive for the AWACS system, as the original drives had begun to fail. He worked with a woman named "Co", and together, they were coined "Co-Ed". She was an engineer, and a brilliant lady according to him.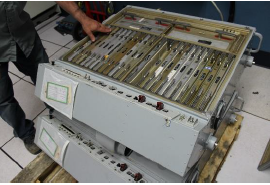 Kramp went on to state his most fascinating accomplishment occurred while he worked with the AWACS, upgrading the IFF system. Telephonics Company had built the original system, and they won the contract to upgrade it. They were having so much trouble with the upgrade that their program was about to crash. On Christmas day they called and requested Ed's help, and this resulted in a 7-day visit from New York to Tinker AFB, to work with him hands-on.
Kramp and his team supported the engineers 24 hours a day for those 7 days, and they were able to get the program back on course. This began a 4-5 year pattern of these engineers visiting the lab at Tinker when they needed to solve a complex problem.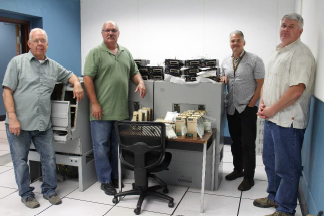 "We got that IFF program upgraded and working, right before I retired again in 2015," he said. "They were in a sink or swim situation, and I did everything I knew to help them."
In 2015, after his second retirement, Ed decided to pursue a very different goal than those he had set for himself while working at Tinker. "I wanted to learn how to drive a tractor," he said. He did just that, and enjoyed a stint working in a peach orchard. He simply stated, "It was just wonderful."
In 2020, in the midst of his retirement and out of the blue, a person who Mr. Kramp had taught in the 1980s called. Bill Anderson, Program Manager for The Intellekt Group, was on the other end of the line. Intellekt currently works as a subcontractor to Taurean on the contract Kramp and his team are under today.
Anderson told Kramp they needed his help, and he began work at Tinker for a third time, as a contractor. For the last two years he has been working in Building 284 in the old SIM, with the program he knows so well.
Because they know how much Ed loves it, whenever there is a chance to run a program in these final days, his co-workers let him do it. Ed has a gleam in his eye that I wish readers could see firsthand, when talking about it. "These guys are tremendous for allowing me to do that," he said of his coworkers.
"Now it's about to end, and it's sad," he told me. The contract ends in August of 2022, and Kramp and his teammates have begun tearing out the old SIM and computer equipment in preparation for the next generation simulator. "I just hate to see it go… I've worked with it off and on for 40 years," he said.
"It is all PCs and servers, and I just can't dig into it like I could the others," Kramp said of the new SIM, "…and so I've decided this is the end."
I took the opportunity to ask Mr. Kramp a question related to the changes he has seen over the years. I asked, "As you can imagine, there are some airmen who might have anxiety about the changes we are about to endure, in swapping from the E-3 Sentry to the E-7 Wedgetail. What advice might you have for airmen who are feeling uneasy about the change?"
Mr. Kramp replied, "Well, like you said, I've been through a lot of changes. I would tell them to give it a chance. Look it over, study it, and don't judge it until you've worked with it. That's what life is. It's changing. You've got to learn to adapt, and I think military are experts at adapting. They've got to apply that mentality to this. Look for some challenges in it. Study it. That's what I did; every time we had a change I got the books out, and I studied it, because I wanted to be the best. That's what they should do. Study, and be the best."
He continued, "When this Wedgetail comes in, they need to WORK it, they need to figure it out and work it, because that's what they need to do. If I was 30 years younger and I was just getting that Wedgetail…boy would I be getting after it."
I have no doubt that is precisely what Mr. Kramp would do.