Nets on the Run, Inc. – Spring 2020 Update
By Lee Anthony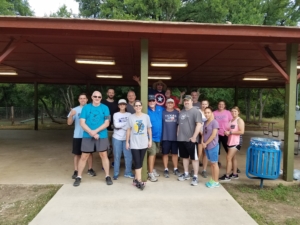 2019 proved to be a tipping point with Nets on the Run! We continued our previous support to public facilities, participated in new large and small-scale service opportunities, obtained solid relationships throughout the park and event community, and now anxiously await a return to full operations following the closures and restrictions associated with COVID-19.
We opened 2019 by establishing a relationship with the San Antonio YMCA to work the semi-annual city-wide Siclovía events. During the Spring and Fall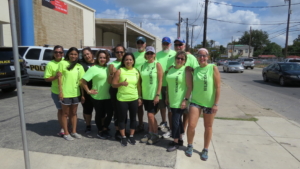 events, Nets provided traffic control for over 120,000 cyclists and runners, added a "slam dunk" venue for small children, and passed out over 500 embossed discs/miniature frisbees. We're now embedded as a permanent volunteer fixture with the YMCA and City of San Antonio.
We also matured our relationship with San Antonio Sports, the local non-profit that manages parks and key sporting events on behalf of the city.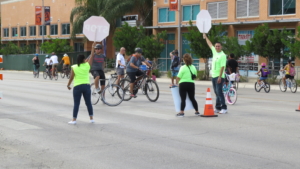 This support grew based on an initial 2018 request to service 15 parks throughout the city. Our agreement now extends to all 37 designated San Antonio School Parks, and we perform quarterly maintenance (primarily basketball courts) throughout 7 school districts! Since this partnership began, we conducted a survey of needs, refurbished nets at 31 parks, and completed a major service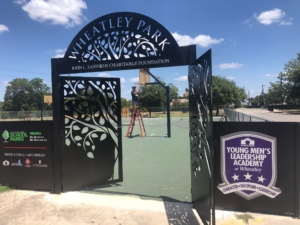 project at Rhodes Middle School to restore 6 backboards and install new rims and nets. At this point, we are evaluating 4 parks for another major service project in late 2020.
SA Sports provided a new opportunity to serve at another major city event – the 2019 San Antonio Rock and Roll Marathon! 17 Nets on the Run volunteers passed out finishers' medals, water, snacks, and sports drinks to over 25,000 runners! We anxiously await the opportunity to perform these key activities at the 2020 marathon!
Lee Anthony was interviewed by Walk Proud, a local podcast sponsored by Sports Pub that addresses non-profit activities throughout the city. This interview was broadcast both locally and on YouTube and drew great reviews throughout the community. Our Facebook Group now numbers more than 150 members, many of which performed volunteer work throughout the year.
COVID-19 precautions are currently inhibiting our ability to service local parks, but we anticipate returning to action by August 2020. In keeping with our mission of "encouraging healthy lifestyles", we began scheduling weekly walk/run/bike activities at strategic trailheads throughout the Howard W. Peak Greenway Trail System. Though trail heads are designated for parking, these activities are informal and not a group gathering. We simply encourage our constituency to come out, enjoy the 60+ miles of city-designated trails, and maintain all social distancing guidance and courtesies.
Administratively, Nets on the Run is healthy and we'll soon announce the addition of a new Board of Directors member to facilitate our volunteer network and coordinate our support activities. Due to the economic hardships experienced by so many, we will not conduct our annual Facebook/Network for Good fundraiser. We still depend on donations to operate but feel there may be greater internal family and community needs that transcend our mission. If you feel inclined to contribute, Nets on the Run can accept PayPal via the PayPal.Me/netsontherun link, or personal check mailed to Nets on the Run, 127 Burr Road #1 San Antonio. TX 78209.
Thanks to all those within our network for your continued generosity and spirit of volunteerism – we can't accomplishment our mission without a great team of enthusiastic volunteers and the financial resources to make needed improvements to our public facilities!
Contact: Lee Anthony: [email protected]            Facebook Public Group: Nets On The Run, Inc